Doing the BN salute
Basenotes Plus
Why Surrender?
Because our special guest will be
Patty White
from
Surrender to Chance
, one of our favorite decanting sources. And Patty will deliver whatever you order from StD to our end-of-day gathering at the Marriott. Note three things: (1) You must pick up your order at the Marriott as Patty will not be shopping with us at Cherry Creek; (2) You must place your order no later than
March 31
; (3) To be spared shipping costs at checkout from StC, you must enter the code
Denver17
and add a comment in the note section that your order is for the "
Basenotes Denver Meet-Up."

Additionally, we'll be joined by perfumer
Dawn Spencer Hurwitz
. Some from our group will also be visiting her studio on Friday.
See Dawn's comments in post
#67
.
Swapping and sharing
You are encouraged to bring surplus or formerly loved samples/decants/bottles to share and keep them in circulation. Additionally, some of us may make up samples for each other according to your wardrobe test list. So …
UPDATE YOUR TEST LIST!
Meet at Nordstrom's ebar
I spoke to ebar staff who assured me they open at
8 a.m.
on Saturdays. I suggest you arrive at 9 or 9:30 if you want to spend a little time jumping up and down, hugging, and caffeinating. The ebar sits at Nordstrom's interior mall entrance near the cosmetics department.
(See notation #1 on map)
​
​Cherry Creek
shops open at 10 a.m.

PRE-SHOPPING TIP: As you may know, you can often find out about the availability of individual products at particular outlets by using the shop's zip code on the webpage of the product you're seeking. For Cherry Creek, that's: 80206
Here is the sequence I imagine our perfume parade will follow:


(1)

Nordstrom

— Nordies offers few items not also available from N-M. According to Nordstrom.com, their Cherry Creek location has just a couple exclusives: Lanvin Éclat de Fleurs and Valentino Valentina Poudre.


(2)

Anthropologie — Check their website for exclusive lines. Most recently added is Raw Spirit.


(3)

Bath & Body Works

— I don't know if there's interest in their lineup. We can pop in if we feel like it.


(4)

Sephora

— Their newest exclusive is Nest Black Tulip.


(5)

L'Occitane

— L'Occitane usually rolls in fresh products quasi-regularly. One of their newest is Shea Butter Violet Solidarity Balm, the proceeds from which go to promote women's leadership around the world, currently in stock at Cherry Creek.


(6)

Lush

has had a hit with its

Rose Jam

, its newest scented product is called

Wash Behind Your Ears

shower gel.
(Note: Macy's is nearby. Don't know if there's any interest for us, but will mention these are exclusive to Macy's: Nejma, Michel Germain, and Paco Rabanne Lady Million.)
(7) FOOD COURT. Preview the menus from: https://www.pandaexpress.com/menu and http://renziosgreekfood.com/locations-menus/renzios/denver.php


(8)

Neiman Marcus

— Let loose! Lots of new Jo Malones.


(9)

Hermes

— 2016 releases were Eau des Merveilles Bleue, Galop d'Hermes, Muguet Porcelain, Eau de Rhubarbe Éscarlate, and Eau de Néroli Doré.
I haven't found the new Mon Guerlain to be in stock at the Cherry Creek Sephora or Macy's (although they both offer it online). Maybe we'll get lucky on the day.
Evening
After Hermes, I invite you to walk around the block to my Marriott room (roommate desired, PM me) for a sprawl-on-the-floor gathering. If we get hungry, I can order pizza delivery from Extreme Pizza. Their two most popular items are the veggie Drag It Through The Garden pizza and the meaty Railroad Grade pizza. They also offer sub sandwiches. If you have particular dietary restrictions, just speak up. With soda, I think this would run about $12 per person. Please bring cash to make this manageable.
http://extremepizza.com/menu/
BRING VIALS
Most stores will let you make samples. Simply ask permission to do so. Back at the Marriott, we may wish to make samples for each other. I'm getting low on vials, so I'll to order some from Surrender to Chance. You may wish to do the same.
As always, if you see a better way to proceed with meals, etc., I'm open to suggestions.


Will you be joining us?
Please send me one last PM confirmation so I have a final head count.
Thank you!
Here is an updated annotated map: Print out or download to your device.


You can bookmark this link
https://goo.gl/maps/mzXNa9pj7D22,

but it will not have all the red notations of the image below.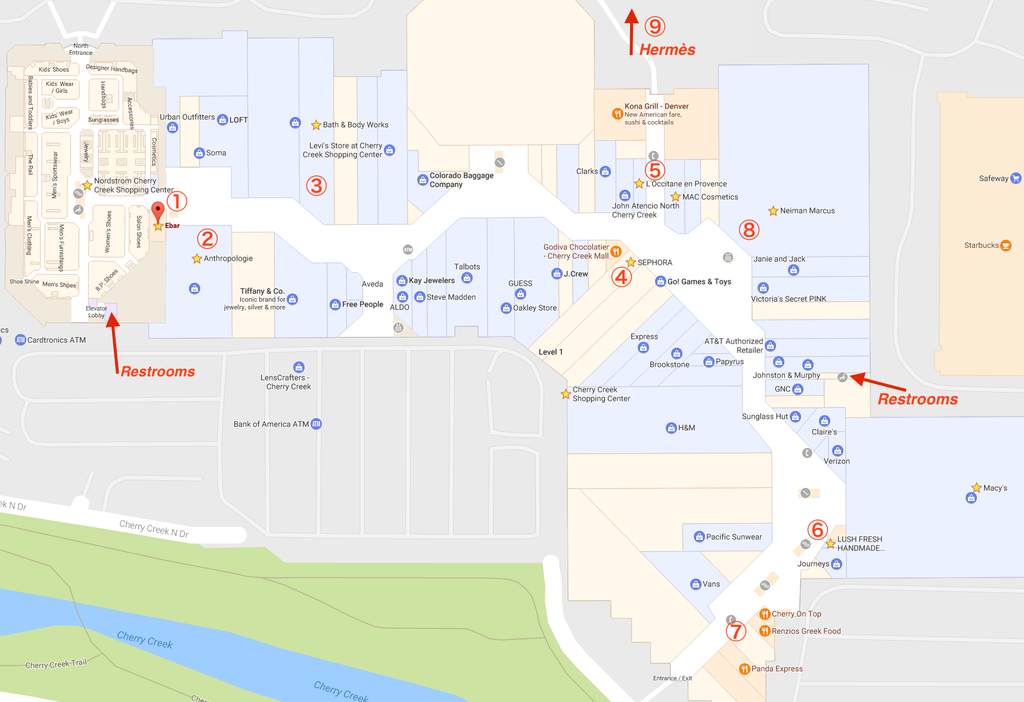 For local transportation references, turn to the
rtd-denver
trip planner.​
Last edited: