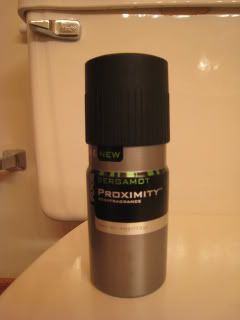 [size=+3]
AXE P[/size][size=+2]ROXIMITY
<<
BERGAMOT
[/size]
assuming a permanent place in my wardrobe
********************​
Who was it who said "Hope springs eternal?" Well, it was somebody. I guess that's close enough. And in that spirit, let us take a small detour from fine fragrance into something that's.... close.
Being the proud and satisfied owner of several fine bergamot fragrances, including some other citrus fragrances which are "close" to bergamot, I generally feel it right and proper to investigate anything with the word "bergamot" on the label. Thus, on a particularly retentive trip to Target (Tar-zhay in English), I was overcome by an urge to own
every
bergamot fragrance, including the recent entry from Unilever,
Axe Proximity Bergamot
.
Note the absence of an "e" at the end of "Bergamot". I was curious about this rather artistic deletion. It turns out that
Axe Proximity Bergamot
is
not
produced by The Different Company, a fancy-pants French company that produces an industrial solvent known to Eastern Liberals and Hollywood Millionaires as "Divine Bergamote" or more simply "Bergamote". Au contrary,
Axe Proximity Bergamot
is made in the Good Old USA by people like me.
Well, that's all fine and good, but completely irrelevant. We perfumisorinosseuroscente-types know that it's the bottle that counts, so let's review that.
Axe Proximity Bergamot
starts of boldly and unabashedly with a powerful note of
broken spray mechanism
. This note, first introduced by Creed in the Palinocene Epoch, has been copied relentlessly by all the designer houses (although many regard it as having been perfected by niche).
Axe Proximity Bergamot
, however, introduces a new twist on broken. Here, broken is elegantly wrapped in a rather opaque dash of
black plastique
. Similar to
black rubber
, introduced by Thierry de Baschmakoff in
Bulgari Black
,
black plastique
adds an elegant, high-tech touch to this fragrance. While one could argue that wrapping
broken
in
plastique
defeats the purpose of a broken note, I find that it adds considerably to the overall effect.
Not only that - I found
broken spray mechanism
to be richly complex, with hints of
inaccessibility
, redolence of
physical impossibility
, and a very sophisticated touch of
ingenious but flimsy
, first introduced by the great scent designer, Rube Goldberg.
As the topnotes of the bottle fade, a distinctly metallic accord takes its place. Hints of greenery and a black, paint-like note dance in and out as the rather cylindrical heart unfolds. While this cold metallic effect does last for the remainder of the fragrance, there are some surprising notes in the base. Among these are
barcode
,
zip code
, and
serial number
. The latter should
not
be confused with
lot number
, which is part of the well-known Creed drydown. In contrast with lot number, serial number is rather high tech, and not found in many fragrances.
The final surprises of
Axe Proximity Bergamot
, deep in the base, are three notes which appear and disappear in rapid succession: ?, P, and W. I found these rather intriguing. A closer sniff, slightly to the right, revealed that these are (in order)
questions/comments?
,
toll-free phone number
, and
website
. The presence of these notes in the drydown clearly distinguish this fragrance from all imitators, including various Creeds and Chanels. Even
Bergamote
lacks
website
- this despite the fact that The Different Company has a rather outstanding one. Thus, it's clear that
Axe Proximity Bergamot
is completely unique among bergamot fragrances.
I could not finish this review without mentioning the scent itself. On a positive note, I would say that "no live plants were harmed in the manufacture of this fragrance". I does have a rather linear structure composed of three notes - "smells kinda like bergamot", synthetic, and "almost powdery". The first (SKLB) decreases slightly over time.
Synthetic
remains constant throughout the duration of the fragrance.
Almost powdery
appears in the base. That's pretty much it. I thus find the contention that women would rip one's clothes off to smell this stuff to be a rather vicious slur against the fairer sex.
Nevertheless, I am a scientist, and I decided to test the aphrodisiac effects of the fragrance. Indeed, I found that when I made amorous advances toward my wife in her sleep, while wearing this fragrance, she did not wake up. Well, actually she did wake up, but it was due to my breath, and not the fragrance. Proof positive that the Axe effect is quite real.
There you have it.
Axe "Proximity" Bergamot
. Close - as in horseshoes, hand grenades, and nuclear synthetic bergamoid bombs.