Whispered Myths fragrance notes
Cambodian oud, Cantaloupe, Cedarwood, Muskdana, Honey, Salvaged shipwreck
Where to buy Whispered Myths by Imaginary Authors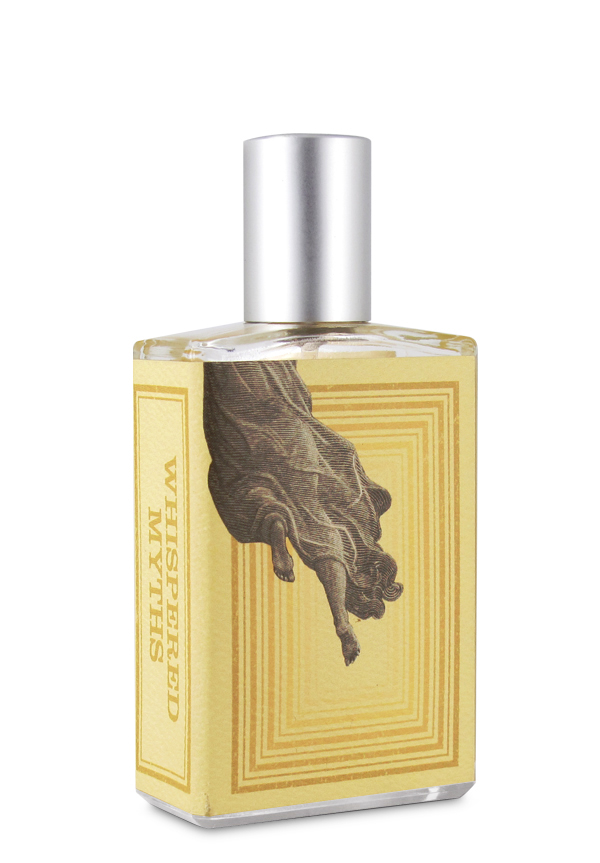 Eau de Parfum 50ml
$105.00
If you purchase through these links, we may receive a small commission, which helps support and maintain our site. Thank you!
Latest Reviews of Whispered Myths

otterlake
Maybe I'm jaded enough that anything gently peculiar can be of interest, but I quite like this. The contrast between fresh melon and marine tones and that dry, herbal, musky oud is unusually appealing.
It's probably my favorite entry in the Imaginary Authors lineup.

speedracer
The opening is a mix of melon and woody sea notes. The smokey oud comes in not too long after the opening and fully takes over, leaving nothing of the interesting opening. Later, it all gives way to the musk. This is not a clean musk. Dirty and animalic musk. This drydown reminds of the musks in Muscs Koublaï Khän or even the opening of Musc Ravageur.
Projection is average but the longevity is quite good, lasts 8-9 hours.

ADVERTISEMENT

500DaysofSemmler
Whispered Myths is a whole different kind of scent, it has a lot going on. At a first whiff of the atomizer I'm drawn in by a luscious mix of melon, honey and wood. What I get on my skin (at least right away) is a whole different situation. The opening is quite smokey, and strongly woody, to the point that the sweetness I was looking for is hard to find.
Given an hour or so to warm up on my chest, some of that smokiness drifts away and I get a nice mix of the two halves. Mixing the sweetness of melon with this dark woodiness does a good job of creating that "shipwreck" feel. If I was to wear it again I'd forego spraying my wrists, since those don't seem to warm up as much. I wouldn't be surprised if that smokiness I get is authentic oud, and that things I've smelled before have been smoothed down approximations. Like all things from IA I think this is an interesting piece of fragrance art. Not sure it's for me, but definitely check it out.

Cheetah1919
Wow, got WM in a sample pack awhile back, and now I'm not sure if I ever tried it?!? Found it in the drawer today and used a good amount...and glad I did! It's real, quality, Oud! It's easier for me to decipher between real and fake Ouds since I've been purchasing a few real Oud oils lately. The cedar and honey aspect really balance out the medical sharp edges of the Oud. FB worthy imo!

tennis3040
JOSH,GREAT JOB SCENT 9.5 LONGITIVITY 9.5 SILAGE 9 VERSATILITY 9. GREATJOB AGAIN,JOSH

landshark321
One of the recent releases by Josh Meyer of Imaginary Authors, done semi-secretly on the website and by word of mouth, is Whispered Myths, no doubt promoted substantially less than the release that followed it, "O, Unknown!".
Whispered Myths marks the first occasion in Imaginary Authors of oud being a prominent, and in this case, a dominant one.
The oud used in Whispered Myths is seemingly neither toward the animalic nor soberly smooth extremes of what oud can be, resting somewhere in between. And in that respect, it seems to both a nod to true oud-lovers as well as a movement toward the middle as far as ease-of-wearing. Even at first smell, it's one of the easiest oud fragrances to wear that I've smelled, and one need not be a fan of rose (as in the many rose/oud combos) or another pronounced note to like the fragrance as a whole.
The other contributory notes, minor players by comparison, of cantaloupe, cedar, and honey, sweeten and smooth out the oud further, harmonious making it even more wearable.
It's sweet and enjoyable while still being bold and oud-intensive.
Performance is quite great, stronger than average in terms of both projection and longevity, albeit not quite the beast of some of its Imaginary Authors siblings, such as A City on Fire, Cape Heartache, and Memoirs of a Trespasser.
Higher than the usual pricing (of $95 for 50ml), Whispered Myths is priced at $120 for 50ml, due likely to the cost of oud, I imagined, and this was confirmed by Gents Scents on YouTube.
8 out of 10