Terre d'Hermès Parfum fragrance notes
Head

grapefruit, orange, shiso

Heart

Base
Where to buy Terre d'Hermès Parfum by Hermès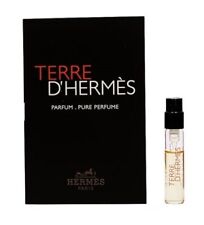 1 Vial Sample TERRE D'HERMES PARFUM by HERMES for Men 0.06 oz PURE PERFUME Spray
$7.99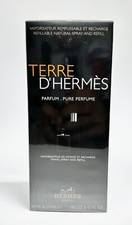 Terre D'hermes Parfum By Hermes Paris 2 Pc Gift Set
$129.99
Terre d`Hermes Parfum by Hermes for Men 2.5 FL OZ
$121.50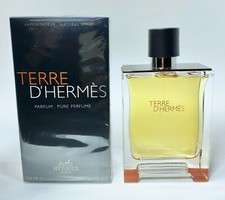 Terre D'hermes Parfum By Hermes Paris 6.7oz/200ml
$178.19
If you purchase through these links, we may receive a small commission, which helps support and maintain our site. Thank you!
Latest Reviews of Terre d'Hermès Parfum

lachrymal
great juice. mature but not old, reminiscent of pencil shavings in an old school pencil sharpener, in a good way.
however, i'd be remiss to not point out that black touch by franck olivier is nearly identical, and costs about $25 for a 3 ounce bottle.

GreekTheNik
The sun is beating down on an orange grove in the middle of Mediterranean summer's day. All of this is a bottle of fragrance. Earthy, creamy citrus that is balanced and exceptionally blended. A classic summer fragrance that will never go out of fashion

ADVERTISEMENT

RedMint
Having not worn the original EDP, I still see what Ellena was going for here - that combination of 'earth, air and water.' The flint note is interesting, and overall it's a pleasant scent combining notes of citrus, pepper and woods that all come together into something a bit ineffable but pleasant. It's sweet, but not cloying, rich without being nauseating, and that mineral something-or-other (presumably the flint) helps round it all out somehow. But I didn't get a 'wow' factor from this, and sadly, it underperformed on my skin, lasting only an hour or so before becoming a skin scent and then dissipating completely.

FSOCI3TY
This seems to have toned down the "dirty" aspect of the original and instead emphasized the orange note, making it more prominent. This results in a dense, juicy orange scent, with a hint of woodiness in the background. Compared to other orange-based fragrances like Eau Tres Fraiche or Orange Sanguine, this scent is less light and airy or fresh and sweet, respectively. Overall, if you enjoy the scent of orange, then this fragrance is definitely worth testing out.

Zenwannabee
I'm not necessarily covering new ground here, but for me this lacks the fun and fizzy pop of the EDT. Maybe it's the lack of the vetiver and pepper. But still a fabulous scent—heavier, creamier, sultrier. On that edge between ripe and too ripe. Overripe, nearly fermented. A wow of a skin scent for me—but also far easier to over-apply than the EDT. Go cautiously and it's fabulous. And no need for the either/or choice here. Both are worth owning and wearing.

Jack Hunter
Now this scent starts off smelling very lush and classy with it's orange and grapefruit aroma. It's deep and well rounded and gets a bit smoky in the mid-notes due to the flint note.
As time passes you can smell a earthy mossy patchouli with some woods. The longevity is excellent as I get several hours and even when I think it's gone it sometimes reappears. Sillage and projection are only within half a arms length making it a more intimate scent for the wearer to enjoy.
All in all a smooth and classy scent that's quite versatile due to it's understated nature.
Show all 83 Reviews of Terre d'Hermès Parfum by Hermès