Slow Explosions fragrance notes
Saffron, Rose Absolute, Leather, Apple, Benzoin, Cashmeran, Arpora Night Market
Where to buy Slow Explosions by Imaginary Authors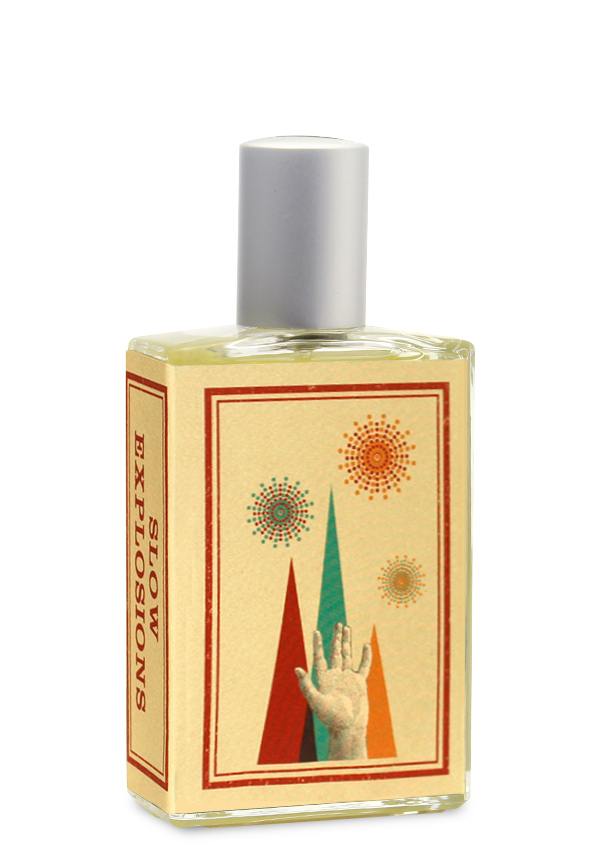 Eau de Parfum 50ml
$105.00
If you purchase through these links, we may receive a small commission, which helps support and maintain our site. Thank you!
Latest Reviews of Slow Explosions

gimmegreen
Grease monkey wanders into the tannery with a jug of petroleum in one hand and swigging from a bottle of cider. Sexy in a rough and tumble way, but has hygiene issues. There are also some roses here but expressed in that half-strangled way when a butch oud is pinning them to the wrestling mat. If you like your leathers creosote stained and chokey, go for it. The rest of us may just choose to admire from a distance.

Franco65
sickly sweet
the smell
of a snuffed
candle
good duration
but
boring
sickly boring
the smell
of a boring
candle

ADVERTISEMENT

NeiLoMo
The sweet rosy notes contrasting the animalic leather note is bit shocking and unpleasant to my nose. It is rather long-lasting but in a cloying and sickly way. Do note that my preferences are lighter and drier scents, so unfortunately this fragrance is completely opposite to that.

ClockworkAlice
Some people call perfumery a wearable art - well, this particular scent is more like unwearable art to me.
Very, very medicinal take on 'leather'. Smells like medicine cupboard and some spillage. After a couple of hours it turns into overripe apples that are not rotting yet - but are already thinking about it.
In general, this scent scores very high on the "Wow, it's interesting!" scale and very low on "I want to smell like this" scale to me.

pandora22
When I first spritzed this, I was overwhelmed by the smell. Not in a good way, not in a bad way--it was just A LOT. AS the hours went on, it settled into the scent of spilled apple juice. I find it a little sickly, unfortunately.

The_Cologneist
I love this one, which is a shocker, because it contains notes that I don't normally gravitate towards.
This one is all about rose, saffron, and leather to me. the opening is a smokey vanilla, rose, saffron and oud. The oud smell is just a very clean leather, I mean, it has to be.. There's a dark hazelnut or caramel sort of accord, and I also get a menthol or camphor like accord in the opening too. It is indeed polarizing, and opens up with a lot going on, hitting me in many ways, with many facets.
I don't think this is the typical rose/oud combo. It's also ridiculously strong in the opening, and even for the first 2 hours. This one is and eventual buy for me.
I think it's not as popular because, although it is unique, it's just not strange enough for the typical Imaginary Author fan. This and Saint Julep have been 2 of the only ones I would consider completely wearable from start to finish.
Side note, this does contain the signature Imaginary Authors burnt sugar accord.
Show all 16 Reviews of Slow Explosions by Imaginary Authors