Sables fragrance notes
Everlasting Flower, Cinnamon, Mysore Sandalwood, Indonesian Pepper, Smoked Tea, Amber
Where to buy Sables by Annick Goutal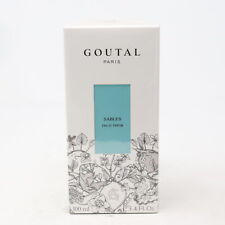 Sables by Annick Goutal Eau De Parfum 3.4oz/100ml Spray New With Box
$134.99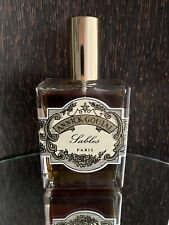 SABLES by ANNICK GOUTAL 100ML / 3.4oz EDT Spray NEW W/O BOX (VINTAGE)
$299.00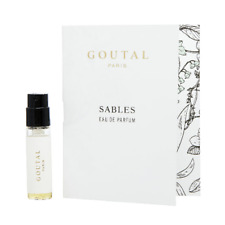 Sables by Annick Goutal 0.05 oz EDP Vial for Men Brand New
$9.98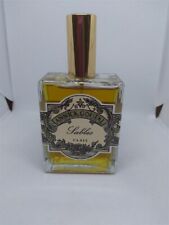 Sables by Annick Goutal Eau De Toilette Spray 3.4 oz
$325.00
If you purchase through these links, we may receive a small commission, which helps support and maintain our site. Thank you!
Latest Reviews of Sables

Dane
I find this so hard to love - there's a heavy anise note leading the pack, with a blast of black pepper. I'm not sure if these are typical notes of immortelle, but it smells...challenging.
Immortelle is hard to wear. It's weird and maple-y and so, so odd. Here's it's shown front & centre with a hefty dose of spicy amber. Somehow it seems more wearable when paired with lavender, as in Dior's Eau Noire.

Olfactory Brain Palace
Sables by Annick Goutal
Alchymia. Perfumare. Magnum Opus.
Perfumery as alchemical art
It is hard to try and be more objective about a perfume, which is your first serious perfume to approach consciously; which contains one of your favorite notes – immortelle; and when this perfume has been gifted to you by someone you held very dear. But I will try.
"Sables" is a representation of perfumery as alchemical art. We can quote and discern notes, or we can relate experiences. The end result will – or should – be the same. It is true, that "Sables" is dominated by the immortelle note… or is it? It almost feels like this impression is but an illusion, created to keep away those, who cannot appreciate what is really going on inside "Sables". And yes, this makes "Sables" a difficult perfume. And it is not a question of being confident to wear it, or not. This is never the question. The question is just whether you love what you wear or not, and if you do – confidence follows naturally or, more precisely, is not even an issue. There is something about "Sables" that evokes a visceral reaction of acceptance or rejection, although it might take some time to understand that this has been so from the very beginning. But I completely understand why it is too much – or too little for that matter – for some people.
For me "Sables" was love from first scent. It interflows the energies of liquor, desert sand and deep forest all at once! Pure magic. The alchemical process requires to mix a very aged cognac, desert sand from the starry night on summer solstice and during full moon (this is rare!) and a few grains of salt. Then heat the ingredients until they blend. And then travel back to a forest in Languedoc and go deep into it at sunset. Slowly drink a little of the alchemical liquor, and at the same time deeply breath in the forest air.
If the above it too much for you, we can simplify matters and say that "Sables" most closely approximates a heavy amber oriental scent. But it wouldn't do justice to perceive it only as such. It is no wonder that there are so many diverse, at times conflicting, reactions and descriptions in the reviews of this perfume. That says a lot about its quality and complexity.
The opening is an immortelle-cinnamon fusion, which later subsides into a sandalwood-pepper fusion, which finally turns into a meta-fusion of the two previous phases with an amazing bonus of added salt! Almost undetectable, just a few grains. The alchemy is complete and stays with you as a warm caress on your soul and as a tender whisper on your skin for long. And if only that first phase was less impactful/heavy and more balanced on the immortelle, this fragrance would have been close to perfection…
I must say I find it remarkable how appealing the sandalwood is here, which is not only due to the higher quality used (mysore), but also to the pepper, which imparts a certain austerity to the sandalwood, ennobling what is otherwise a plush and banal note to say the least. Yet another reason to be thankful to this perfume for redeeming the potential of sandalwood, which I don't recall being able to tolerate in any other perfume – when it is so prominent, that is. And it is this austerity of the sandalwood through the pepper, which prevents "Sables" from becoming gourmand. It is also this mysterium coniunctionis between those two notes that produces the salt, imparting the composition with hidden inner subtlety.
Finally, just as a very aged liquor, "Sables" is to be tasted very rarely and, as experience shows, best in solitude. And, well, if you happen to be blessed enough to wear it in the evening, under the blossoming lime trees after a spring shower (what happened with me yesterday) – stay silent in an inner smile of gratitude.
If you decide to see what "Sables" has to offer you – don't rely on a couple of visits to test it in the store. Best order or get a small sample vial, give it time and spend time with it alone. This is not a perfume you can assess easily or quickly.
And I can't help but wonder in longing what the original formula was like, if it is indeed true that oakmoss was in the base…
PS: The review is for a 2015-2016 version of "Sables" (the bottles were still in that awesome square shape back then). I cannot testify for later versions of "Sables", but with all that's going on in the perfume industry, I know I will be holding on to my bottle as long as I can.
Annick Goutal, Sables:
Composition: 8.5/10
Complexity: 8/10
Development: 7.5/10
Naturality: 7.5/10

ADVERTISEMENT

Colbourne
Sables is legendary; it is unapologetically immortelle, with supporting notes of black tea and black pepper, and it is a stunner to my nose, even if it might be challenging and too abstract for the middle-of-the-road frag enthusiast.
Immortelle is warm, dry, hay-like, with undertones reminiscent of fenugreek, maple, and curry. Therefore, this note can be polarizing, but somehow, to my nose, it is most blissful, almost titillating to my senses, and ever so fulsome on my skin. I reserve this for just the right mood and with that and the fact that (at least older formula) Sables is tenacious and substantive, a bottle will let me quite some time.
As the top notes subside, the smokier, woodier elements and toothsome maple radiate from warm skin.
What a daring, cerebral creation, and what rapturous joy it brings to me when the occasion calls for wearing it. One of my absolute favorites.
10/10

rbaker
A review of the Eau de Toilette:
The opening blast reveals a good load of cinnamon, but also an immortelle that is rapidly growing in intensity. This one displays the typical spicy-curry aroma that will rule and dominate the whole development of this creation until the end, and is the sun of this olfactory solar system around which the other component circle like planets around its centre.
Let's look an bit closer at these satellites passing the observer.
At the end of the opening the Mysore sandalwood is noticeable, but it never really goes beyond being a faint accompaniment of the immortelle until much later. A sweetish maple syrupy undertone support the cinnamon in attenuating the spices, albeit only to a limited extent. Other spicy touches come and go, like fenugreek and black (Indonesian) pepper.
During the last hours hits of smoked bacon strips make a brief appearance, as does a somewhat nonspecific black tea impression. A celery sidekick asteroid passes by too. More importantly, an ambery components becomes evident, a dark and rich amber, not without a touch of edge, but lacking the raw harshness I admire in Tom Ford's Amber Absolute, for instance.
Eventually, the immortelle, now a weaker and more equal player, and flanked by the amber, an added vanilla impression, as well as residuals of the caramel, are the last notes of the night still standing.
I get strong sillage, splendid projection, and a stupendous longevity of fifteen hours on my skin.
This creation, apparently designed by Annick Goutal personally for her husband, is an immortelle-dominated autumnal scent, and whilst this flower tends to overwhelm and nigh suffocate its associates, there is enough underground development to make this an interesting and sufficiently variegated experience to satisfy. The performance is phenomenal. 3.25/5.

mistersurgery
This is another perfume that has a name that I think is quite misleading. When I think of "sands" -- "sables" is the French word for "sands"-- I think of warm, dry, and thin. Sables is certainly warm, but it is thick and sensual. This fragrance is also something I think should be worn in cooler temps, as in the heat this would be stifling and cloying.
This is a strong and thick fragrance. It's very aromatic, and upon first whiff, I thought that licorice was a note in there, though it's just the cinnamon (and a nicely done cinnamon, at that) and tea giving the immortelle a bit of a kick. If you want a very crude description of this, it would be "spicy, aromatic, maple candy" It's like a very sweet barbershop/fougere. As far as immortelle goes, I can only take it in small doses, and Sables has immortelle in spades. I prefer the way immortelle was used in 1740 Marquis de Sade (2008) by Histoires de Parfums, though the "crotch note" (my term; not actually in the note list) made it something I wouldn't wear. As Sables dries down further, the sandalwood makes its presence more known and the immortelle is reduced to speaking loudly rather than shouting through a bullhorn.
This is a great scent for the kind of guy who digs old-school powerhouses from the '70s and '80s. It's not my style, as my nose is on the "sensitive" side and those heavy-duty scents are just too much for my taste. It's a solidly-done perfume, and for the right guy this could be a signature scent. It's just not my cup of tea, but I can't knock it on its quality or performance, both of which are very good.
Thumbs up, but not for me.

StellaDiverFlynn
Sables doesn't evolve much on me. I get a smoky and warm mixture of immortelle, amber, cinnamon and sandalwood. Though in the end I decided that Sables is not what I would personally wear, I'm very impressed throughout the wearing. It has a sweet aspect but at the same time it's very masculine to my nose. I don't know why but the image evoked by Sables in my head is muscles and a mature man, lol. The longevity is around 10 hours and the sillage is good, one spray and I got a whiff or another frequently. Definitely a wonderful fragrance to at least give a try.
Show all 70 Reviews of Sables by Annick Goutal