Pierre Cardin pour Monsieur fragrance notes
Head

lemon, bergamot, orange, lavender, basil

Heart

carnation, geranium, leather, sandalwood, patchouli, orris

Base

vanilla, moss, tonka, leather, benzoin, amber


Where to buy Pierre Cardin pour Monsieur by Pierre Cardin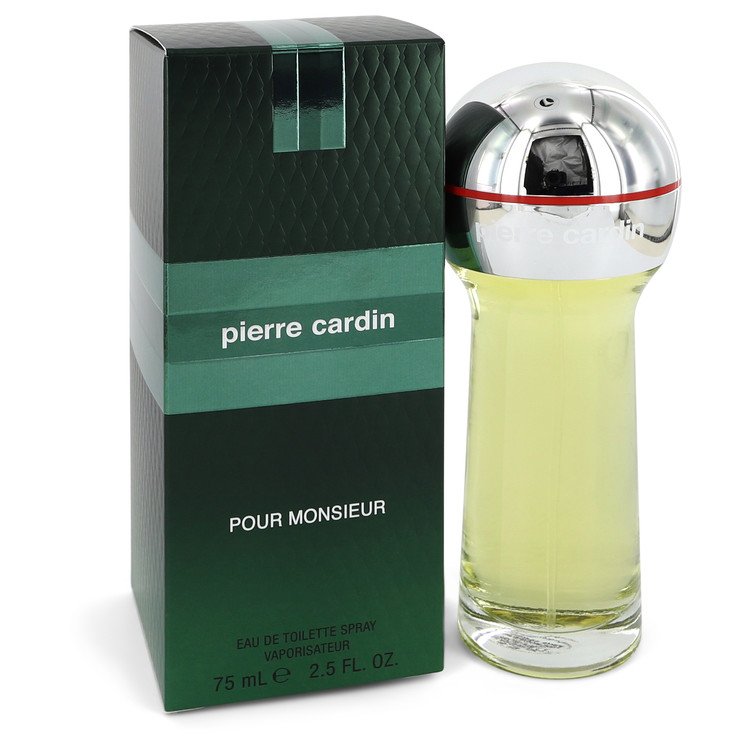 Eau de Toilette 74ml
$20.17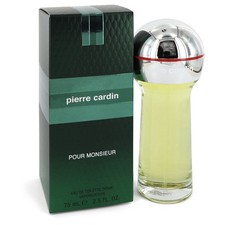 Pierre Cardin Pour Monsieur By Pierre Cardin EDT Spray 2.5oz/75ml For Men
$30.36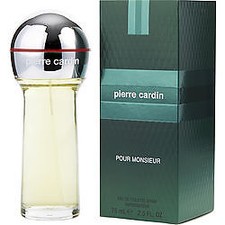 Pierre Cardin Pour Monsieur By Pierre Cardin Men Fragrances Edt Spray 2.5 Oz
$30.21
Pierre Cardin Pour Monsieur by Pierre Cardin EDT Spray 2.5 oz
$25.19
If you purchase through these links, we may receive a small commission, which helps support and maintain our site. Thank you!
Latest Reviews of Pierre Cardin pour Monsieur

Zenwannabee
Finally bought this and realized it was what my childhood barber always wore—what I had always assumed was some secret bay rum or Barbasol scent that I couldn't put my finger on. But he always smelled like a million bucks and set the standard even then for what good masculine grooming meant. I've loved barbershops ever since. Fast forward and Pierre Cardin PM is still great and essential history for what came after the early '70s in men's fragrances. Dated? Hardly. To me this is timeless and a couple of spritzes and my sartorial armor is complete. Lemon meringue, sandalwood, and patchouli over a vanilla and amber base. Tremendous. And even in EDC strength it has crazy sillage and longevity. Careful with the trigger finger here. Shave and a haircut. Thanks, Monsieur Cardin.

Shahbaz_2009
This is what a key party in the mid 70's smells like. This is what you wear to take a woman back to your pad to "test out" your new waterbed. This bad boy is still around today for a reason. And that is women still love masculine men that are rugged, hard working and driven, but yet supportive, kind and trustworthy. A man that is not afraid of being a man.
Pierre Cardin Pour Monsieur has a complex, composition, typical of the fragrances of the 70's. This is a deep, earthy patchouli with sandalwood, warmly spiced with rich baking spices, especially a dark, earthy clove note, an amber accord in the base along with musk that's a bit dirty, in a good way. Performance is very good.

ADVERTISEMENT

Colbourne
I feel like Pierre Cardin Pour Monsieur has become an afterthought since it's been widely available since its release and has been a drugstore staple dismissed as cheap, dated, even comical. It's nonsense really, as PCPM, especially if you were to spend just a few more bucks for an older formulation, has a delightful, even impressive sandalwood note in its heart preceded by lemon meringue, lavender, and green herbs.
The carnation note rivals that of Equipage, and its mossy benzoin dry down puts it in the ranks of Lagerfeld Cologne (Classic). I swear that if I were to have some vintage snobs blind-test this and label it with the name of an overpriced discontinued unicorn, they'd be salivating to blind buy for a couple hundred bucks. And so it goes, the noble PCPM, a progenitor of the fabled Derby, going for pennies on the dollar.

Shifty Bat
Must Love Vanilla
With a base consisting mostly of vanilla, amber, benzoin, and tonka, PCpM smells like mossy, caramelized sugar. This was probably created just moments before the sweaty, animalic macho bombs came to take over the disco era and boy's club business end of the 80's. It doesn't smell dirty - just a tad burnt. If you dropped your orange creamsicle onto a green, smoldering shag carpet it would smell something like this. That being said, I quite like it, though it can become wearisome (especially if over-applied), as the aforementioned base is relentless.
My bottle is quite old, late 80's or early 90's as best I can tell. I can not recall what I felt when I sampled the current formula, as it was close to a decade ago at a mall Perfumania.
For historical purposes this is certainly a must-try, as it was an obvious and traceable influence on things to come (Looking at You, S.T. Dupont Signature).

softstarlight
I cannot help but smile whenever my husband wears this. I love it so much, sometimes, I even wear it myself. One of my favorite male scents, I can't get enough of it's deliciousness - it's fabulous!

Varanis Ridari
Pierre Cardin Pour Monsieur (1972) is an utter classic of the "burly" era of 1970's masculines, following fougère construction lines but going in a decidedly "oriental" direction like a lot of feminine fragrances did in the early 20th century. It would be a crime to say this smells anything like a Tabu (1941) or a Shalimar (1925) as those are basically following a vanillic construction despite their woody heaviness, but a common link is there; nothing this thick and spicy would have been accepted as a man's scent before the wild and virile 1970's made it fashionable, with the keystone to male acceptance being patchouli. Pierre Cardin as a designer was already quite "avant-garde" with his geometric designs that eschewed gender despite what sex they were made for, and extended this penchant for bold lines and simple shapes to everything from ballpoint pens to car interiors (there was a line of AMC vehicles that included Pierre Cardin trim). The brash, bold, asexual intonation of his designs transferred over to his debut masculine, which combined the headiness of feminine perfume from decades past and the composition style of the traditional male fougère, adding tons of aromatics like the aforementioned patchouli, leather, and styrax. Pierre Cardin Pour Monsieur was a monster in sillage and projection too, funking up many a disco dance floor throughout the decade and fighting for space with other heavyweights of the time. The scent became such a cornerstone for the style it introduced that many similarly rich or spicy masculines made in it's wake were unfairly called clones (like 1976's Jovan Sex Appeal). Most importantly, the groundwork for other even more patchouli-forward scents like Givenchy Gentleman (1974) and Giorgio Beverly Hills for Men (1984) was laid by Pierre Cardin Pour Monsieur, while a whole new style of rich gentleman's semi-oriental fougères also emerged from this, leading to latter greats like Patou Pour Homme (1980), Versace L'Homme (1984), Creed Bois du Portugal (1987), Chanel Pour Monsieur Eau de Toilette Concentrée (1989), Tiffany for Men (1989), New York by Parfums de Nicolai (1989) Guerlain Heritage (1992) Avon Mesmerize for Men (1992), Lalique Pour Homme (1997) and others.
Pierre Cardin Pour Monsieur is either poured or sprayed from it's trademark bottle, a slender glass tube crowned by a spherical cap that resembles a glass microphone (early ones had a red "PC" logo on them). It was one of the earliest of it's kind to come in a non-aerosol spray, when everything else masculine was either a pressurized sprayer or a pour flask, which is probably part of why it was stereo-typically over-applied by guys back in the day since nobody was savvy on how much stronger vaporizer fragrance can be versus splash application. The power of Cardin opens up with the usual lemon oil, bergamot, lavender, and herbs, giving Pierre Cardin Pour Monsieur a heavy-handed barbershop feeling until that patchouli took hold, but an injection of sweet mandarin also takes this down a richer road than the usual barbershop really fast, faster than any similar lemon-powered male fragrance of the day. From there, it descends further into leather, sandalwood, and that patchouli, tied to geranium and carnation to keep a link to the barbershop opening, but just with this huge swill of density that suggests spices despite not really having any. My nose detects a ghost cinnamon note, but like a lot of fragrances that imply a smell from combinations of other notes, it actually contains none. The base is fairly standard fougère with tonka, oakmoss, and musk, but in large quantities alongside the styrax/benzoin accord and amber to give this bass lines equivalent to a Parliament-Funkadelic song, and this will date the fragrance most. It's all one absent civet note shy of being truly skanky like Jicky by Guerlain (1889), but Givenchy Gentleman would pair patchouli with civet in the following years to take that next step. The scent carries excellently in cold air, but is downright stifling in the heat, being an archaic precursor to something like the spicy 2000's gourmands in the way it smothers, just without any of the food-derived notes, so wear indoors carefully. This stuff was once club-friendly, but now I doubt it has any appropriate context so just wear it because you want to, and not because it fits in with a particular occasion.
Pierre Cardin has sadly experienced some mass-market/down market malaise in recent years, originally being imported into the US in it's first form by Jacqueline Cochrane, then moved to Aladdin Fragrances after the mid-80's, but has since been sold to Five Star Fragrances in the 2000's, keepers of the Royal Copenhagen (1970) crown. The company seems to keep the integrity of the latter intact, outside some synthetic cheapening for price point, but with Pierre Cardin, they've made a mess of concentrations alongside cheapening the stuff and pulling out some of the heavier elements, bumping everything down to an Eau de cologne with little of the same growl, which really washes the fragrance out badly. It still smells relatively the same, but you'll want to buy the huge 8oz sprayer and just drown yourself in it every few hours to keep the scent alive, which means that 8oz bottle is about as effective (or less) than a 1.7oz of the old stuff. Luckily, Pierre Cardin seems to hold the rights to this stuff in Europe, and although has reduced oakmoss to meet IFRA, hasn't touched the styrax note as much (aka not adjusted for taste), so if you import a bottle of that, you'll get the vintage strength you're looking for with the vintage growl, just less moss to deepen the bottom end. The difference between the two is easy to spot: the US weak-sauce has "Pierre Cardin Cologne" alone on the box with a red vertical stripe, while the French retains the full title of "Pierre Cardin Pour Monsieur" and has a picture of the bottle on the box (plus won't come any larger than a 2.5oz size). This stuff is the daddy of all modern mainstream semi-oriental masculines, so it's worth a little effort to get the genuine article. Pierre Cardin is best kept as a winter scent, especially for time spent out in the cold, and serves better as something to wax your personality than to impress anyone in the 21st century, unless your romantic interest really loves this period of fragrance history. Thumbs up.
Show all 68 Reviews of Pierre Cardin pour Monsieur by Pierre Cardin