Memoir Man fragrance notes
Head

absinthe, wormwood, basil, mint

Heart

rose, frankincense, lavender

Base

sandalwood, vetiver, guaiac wood, amber, vanilla, musk, oakmoss, leather, tobacco


Where to buy Memoir Man by Amouage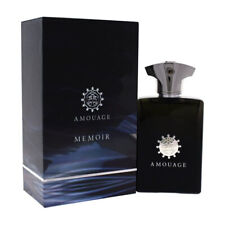 MEMOIR MAN BY AMOUAGE-EDP-SPRAY-3.4 OZ-100 ML-AUTHENTIC-MADE IN OMAN
$186.99
If you purchase through these links, we may receive a small commission, which helps support and maintain our site. Thank you!
Latest Reviews of Memoir Man

FSOCI3TY
The mint, incense, and sandalwood in this fragrance are exceptionally well-blended, making it one of the smoothest scents in the Amouage collection. While its performance is decent, it tends to sit closer to the skin. This is one of my favourites from the brand.

BunnyMusc
A grandfather taking refuge in his study. He's reclined back into an oversized leather armchair, puffing away on his pipe, intermittently sipping a glass of sambuca. His suit jacket hangs from the hatstand in the corner and ever so often you can catch a whiff of the wrapped peppermint disks he's stashed in the pockets.
On my skin, Memoir Man smells prominently of vetiver, licorice notes, loose leaf tobacco and leather. Mint remains in the background throughout, subtle but refreshing. Overall very comforting and gentle, a spiced and smoky, mildly sweet fougère.

ADVERTISEMENT

MFJ
I love the basil and mint in Memoir Man, instantly reminding me of fresh cut grass. This is a very well put together grassy fragrance that smells niche, unique and slightly odd in the best possible way. The dry down is familiarly smooth and incensy like all things Amouage. It is the grass + Rose incense that makes this truly unique and pioneering. Absolutely my go-to for my urge for green.

tomofotter
Memoir Man smells like burning palo santo incense and I love it. The open has a harsh peppery, vegetal note that I believe is the basil, which is super odd and it is probably elevated some by the vetiver. Luckily, this note fades completely in first 15-30 minutes and you are left with a lovely guaiac wood and tabacco fragrance. Everything else is super muted and subtle.

Constantine
This is a surprising thumbs up as the opening is a mess and quite off putting, almost reminiscent of vomit but lacking the offensive sharpness. Stale over ripe stewed fruit and cinnamon pear and cantaloupe, but then over 1-2 hours it settles right down into a very pleasant resinous woody oakmoss fragrance that is bordering on the outstanding.
The effort reward ratio is a serious consideration here.
I am going to wear it a couple more times before arriving at a final conclusion.
Update: After due consideration this is a masculine masterpiece. It must be used wisely as indeed true power should be. One spray will suffice. Then let it settle for half an hour and you are good to go. It lasts for hours and projects well. Two sprays enters beast mode territory. Three and you'll clear the room.
The other fragrance I recently tried with a potentially terminally fatal opening is Kilian's Straight to Heaven. Straight to the arse hole imho. Literally. Leave it for at least an hour and it becomes quite nice.
Fragrance: 8/10 its so good the opening won't really bother you just don't over spray it as the objective is to survive the first half hour until it settles.
Projection: 8/10
Longevity: 8/10

Andrewthecologneguy
Dry piny woody and spicy - nutmeg is what my nose concluded.
A much much refined Azzaro Visit, for those who enjoy that jus.
The only issue here is that you need a refined nose to pick up all the yummy variances that make this a winner.
Show all 84 Reviews of Memoir Man by Amouage