Jontue fragrance notes
Head

bergamot, rose, chamomile, gardenia, cypress

Heart

tuberose, ylang ylang, geranium, mimosa, sage

Base

patchouli, musk, oakmoss, vetiver, benzoin


Where to buy Jontue by Revlon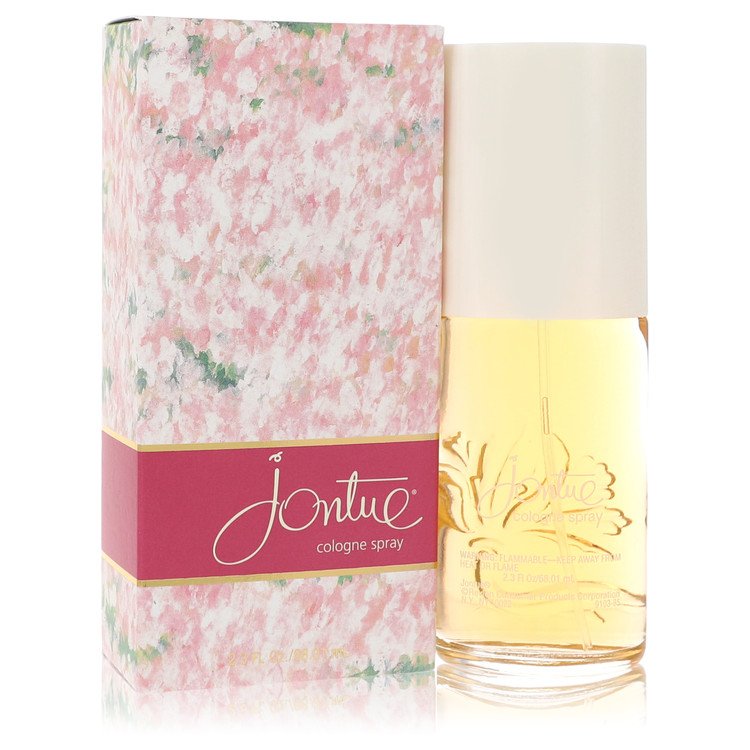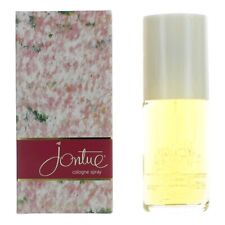 Jontue by Revlon, 2.3 oz Cologne Spray for Women
$12.51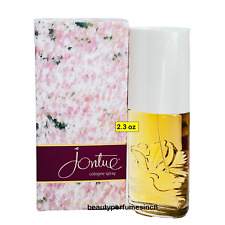 Jontue by Revlon 2.3 oz Cologne Spray Perfume for Women New in Box
$19.99
If you purchase through these links, we may receive a small commission, which helps support and maintain our site. Thank you!
Latest Reviews of Jontue

Colbourne
Jontue came from a time when the income gap wasn't so cavernous, and the affordable and sensible spray and go fragrance purchased from the local drugstore could co-exist with the more luxuriant perfumes and the miasma of cigarette smoke and car exhaust. It could be placed in one's pocketbook along with a roll of Certs and applied as a pick-me-up from the drudgery of the day.
Revlon's Jontue was the budget escape to an enchanted garden, fields of chamomile, gardenia bushes, and mimosa trees in bloom, somehow all at once, defying their natural inclinations. Not to mention a warm sandalwood mingling with oakmoss and vetiver in its base. It is a simple, sensual pleasure, a welcome diversion from heavy complexity and the tired arguments of what is quality perfume. Quality to whom? To someone in Soho in 2023? To a country club in the Hamptons? To the zombies of late-stage Capitalism?
A quality experience is a personal principle. Trash and treasures are all on a level playing field to the expansive universe, so why not let go of pretense and see if something simple and delightful is liberating? Jontue's hazy floral glow, earthy, mossy embrace is liberating.
Also, I recall being drawn to that jaunty script that spells out "Jontue'' on the boxes and bottles as a child and thinking, "fancy". That in itself is a warm, fuzzy memory.

Brian Buchanan
Who said sandalwood is basically a perfume by itself?
Smelling Jontue it's easy to see why.
Based around the old Mysore Sandal it's creamy, woody, sweet and sour.
Here, sandal is paired with the dry floral of chamomile - which is a perfect fit.
Everything else is just modifiers to this; white flowers, tuberose, vanillin, white musk, and a peachy note and moss which have been lifted from Femme and Mitsouko.
It's very simple and very effective.
Sandal is not very original (the Indians have been using it for thousands of years) but it does seem to have been influential. You can feel it's effect on Sophia Grojsman's Hug Me accord, on Samsara - strongly, and on some of the woody Lutens.
How much of that is due to Jontue and how much is down to the Sandalwood tree is a matter of conjecture, but suffice it to say Francis Camail got there ahead of the other perfumers (except the Indians).
The parfum concentration of his Jontue is 'natural', faceted, and - with the chamomile - a wee bit quirky. Sadly it gets a bit metallic up close.
Besides that, Jontue is a sweet and soft sensual delight.

ADVERTISEMENT

Shahbaz_2009
I think if Cinderella was wearing this, prince charming would not have hesitated.he would have proposed marriage on the spot instead of searching the kingdom with a glass shoe that countless amount of manky feet tired to fit.bright,sparkly,and green; oh and of course high quality. this is so not your mainstream fruity-floral at which i would typically turn my nose up;this is old-money luxury. comforting, strong but well-mannered.crisp clean scent for a minimalist makeup kinda woman.
It's so delightful being able to tell the ylang ylang, mimosa,gardenia and chamomile on the skin;sunny and bright mimosa at it's best.the other flowers also there.it is so expertly blended that upon first spray you have all the flowers and you can't them tell apart for at least a couple of hours.the white florals more dominant in the heart.this is blushing-bride or girl-in-a-white-frock kind of white floral.white florals are gorgeous, but a bit too refined.the base is quite pleasant,though nothing extraordinary, but it blends beautifully with the rest, leaving an all-over warm,mossy and elegant smell.the warmth is further enhanced by the sandalwood,which i always finds balances out floral fragrances beautifully.

Tlockerk
Found this old bottle (still in the box should have been a hint) when cleaning out a cupboard, thought I'd give it a try. Never wore it as a young woman, maybe my daughter left it here? Doesnt' seem her style, so no idea. I gave it a go, and after two hours I now I remember why I never wore it.
Opening is nice citrus and floral then "it" starts. I don't know exactly what the scent "it" is, perhaps the musk or patchouli -- both of which I have an ongoing love/hate relationships with depending on their strength an strength. I'll let this wear run out, and put it in my donate to women's shelter box, someone will probably love it.

purecaramel
Here it is! The scent that started my disgust of Tuberose. Actually I think that it is Tuberose paired with the Orange Blossom, (Yes there is Blossom tucked in there) that turns my stomach and has my lungs seize up. There's no saving grace in this. The Oxygen of Jasmine and gentleness of Gardenia have no space to expand.
I suppose that a large part of my abhorrence to this was shaped by the great gobs, that teenage girls
painted on their selves. In High School.
Scrubber.
I was always interested in the Girls that had better taste, with their dabs of Charlie and Tabu.
Thumbs up only because of the Nose Style Ja.

HouseOfPhlegethon
I went through gallons of this when I was young. I currently have a vintage bottle, I found at a "junk-thrift" store. It held up to age very well; the top and base notes are still intact. At the top I smell gardenia, bergamot, chamomile, and rose. I get subtle ylang ylang in the middle. Hours later benzoin, oakmoss, and patchouli for the base.
I have not tried / purchased any newer bottles of this to know how this may have changed. The last bottle I possessed was back in the late 80's. I doubt I would even seek out a version today. I am quite satisfied with my old bottle.
Overall, my bottle of Jontue is a very aromatic floral.
Show all 13 Reviews of Jontue by Revlon