J'Adore fragrance notes
Ylang Ylang, Damascus Rose, Jasmine Sambac, Jasmine Grandiflorum
Where to buy J'Adore by Christian Dior
Eau de Parfum 148ml
$165.00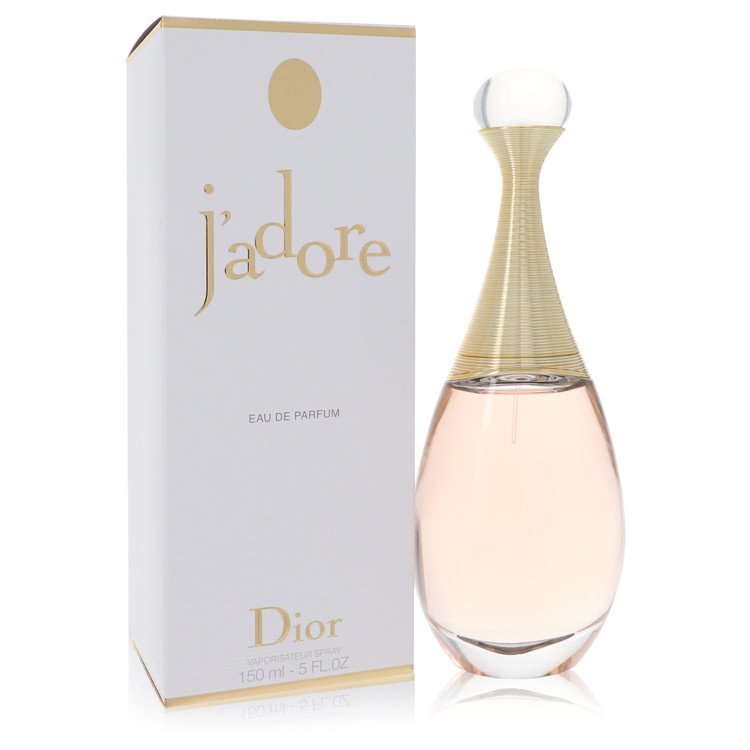 Eau de Parfum 148ml
$194.63
Parfum 100ml
$146.94*
*converted from GBP 116.45
Parfum 100ml
$172.87*
*converted from GBP 137.00
If you purchase through these links, we may receive a small commission, which helps support and maintain our site. Thank you!
Latest Reviews of J'Adore

Ricch
Too sweet scent. Almost nauseating and the price is really too excessive. There are better perfumes that are much cheaper.

Missionista
A big white floral with a lot of fruit. It mostly reminded me of shampoo, and it was OK, but nothing great. It got very screechy on me, and veered into headache territory pretty easily. Gorgeous bottle, boring juice.

ADVERTISEMENT

Varanis Ridari
Normally I'm not one to really get into fruity florals. There are exceptions, but by and large it is a very bland and ubiquitous genre served up to women in the same capacity as aquatics are to men. There really is only so much you can do with fruit and flowers before it smells like your average dryer sheet or salon product, but when an exception occurs, it strikes an accord with me that allows me to appreciate what can be done within the narrow purview of the category when it's done right. J'Adore by Dior (1999) is one such exception, and was originally composed by the phenomenal Calice Becker for Dior before François Demachy took up the mantle as house perfumer for the brand. To put things in perspective, it had been years since a new solid pillar took hold in the female perfume realm for the house. There was the doorbuster Poison (1985) created by Jean Guichard back in the 80's, with several flankers released in the years since which tried to tame the beast it was, then Dune (1991) showed up and brought some weird animal musk and sandy windswept florals together but without much fanfare, and finally Dolce Vita (1995) which proved to be successful, but not the generalist Dior needed to replace Poison as the flagship feminine. J'Adore ended up being that flagship for the brand because it was simple, well-crafted, and was more than the sum of its fruity floral parts, showing that a great perfume doesn't need costly ingredients or avant-garde style, just amazing execution within the given medium. Much like Chanel Cristalle (1974), J'Adore remains bouncy, lively, and fresh without being overly sweet. Granted, J'Adore is miles away happier than the icy bitch that is Cristalle, a sort of equal opposite if you will, but it presents its case earnestly.
The opening of J'Adore is balmy calone shimmer as is expected from a 90's fragrance, but here it works as a pear and mandarin note creep in to join. This tropical sunset of a fragrance moves into lily of the valley after a while, with jasmine sambac in the heart, alongside a light plum and rose water combo that keeps things pretty and feminine without being super sweet or powdery. There is that galoxide shampoo smell here too that you either love or hate in perfumes like this, something also likened to the aforementioned dryer sheets, but here it just really sets the tone of the fragrance rather than dominates it, and I'm not one to hate on the use of synthetic aromachemicals if they are wielded with some skill. If the presence alone of modern scent molecules was enough to make me throw in the towel, I might as well resort to making my own perfumes or just buying from the oud dudes or attar makers online. There is a white musk along with some Iso E Super and dusting of cedar in the base, but the overall accord is held up with the chemicals so you get isolated pear and jasmine over rosewater for hours and hours, without anything like a traditional sandalwood or oakmoss base for any of this to mull into like a traditional chypre. J'Adore feels very linear for this reason but it was made at a time when linear is what people wanted; a single great-smelling accord from start to finish with no surprises to apologize for later on, unlike most of our beloved niche perfumes or heady complex vintage powerhouses with Baskin Robbin's 31 flavors of animal sac. As a generalist, J'Adore has the gumption to stand up in hot or cold, casual or work occasions, romantic liaisons and family gatherings, but does stumble some in formal situations where a "happy" scent might be off-putting to strangers. Wear time of the original eau de parfum is essentially all day, and sillage more than adequate, so this is no weak-sauce watery perfume despite the style in which it sits.
The person who adores J'Adore is going to be that coworker or boss who just wants a shining beacon of fragrance to announce their arrival and linger just long enough after they've left to let everyone know they've been there if they weren't around to meet them when they showed up, but not necessarily to alarm anyone in the process. J'Adore disarms the person who enters its cloud, as it is oh so very clean, fresh, not sweet enough to cloy or impart a feeling of immaturity and mischief, but not dry or austere enough to command you to be on your guard. J'Adore is a "good feeling" fragrance when you don't want to be too exciting but also don't want to blend in with everyone's lavender fougère or orange blossom white floral. The fact that this is such an immaculate example of a maligned all-too-common genre in women's perfume is the one reason it remains so popular; this smells incredibly familiar yet better than most of the things you're liable to happen upon in the street when passing women (and some men) wearing these types of perfumes. I'd say this leans mostly feminine due to the heavy pear and jasmine sambac notes, but anyone with tastes for these notes could wear it, especially in the modern unisex niche perfume market. J'Adore gets pretty pricey for a designer, so definitely test first, and has a half-dozen iterations to boot, but if you're going to own just one fruity floral, it's hard to do better without going further back in time. Good deals do pop up from time to time, and that iconic bottle just looks so great sitting in a collection, with it's wound brass topper crowned with whatever that faux pearl is made of, that even niche snobs would have a difficult time begrudging you for adding it to your collection. Just a hard fragrance overall to dislike! Thumbs up!

2nosedtwin
J'Adore - Christian Dior
After a watery-fruity start this thing quickly swifts into a evenly fruity-floral (peach-plum-apricot-banana vs rose-muguet) fuzzy waxy tonality with something that reminds me of the fattiness of sheepwool, which I like very much. It gets elevated into a luscious summery seebreeze airyness with whiffs of wood glue and tealeaves which gives it a rough edged feel. At some point it had me thinking of a water-downed version of Allure pour homme. A central jasmine-ylangylang combo gets dragged into the dryout and gives it a syrupy plummy sweetness and as contrast, a suprising dark bitter-sour accent of blackberry. It further develops a kind of 'dewed' vanilla and white musk-amber tone with slightly burned plastic/rubbery undertones and a sharp soapy feel. All in all the whole perfume smells a bit too chemical and crude. Not bad but also not very original, a slightly Dior-unworthy perfume.

marimari
Bought a 5 ml sample to test-drive it. Too sharp, floral and sweet and very expensive for such a vulgar fragrance. Reminds me of the cheap fragrances by Avon. You would expect something at least 10 times better from Dior. Tacky, for people with no taste at all, who are happy to spend gobs of money to show off their expendable wealth. The first image that comes to my mind after smelling it is of a bunch of nouveau riche moms in their late 30's meeting inside an elevator at a condo while going for a tea around the center table showing off their perfumes to each other and commenting about their prices.

jepifish
What a horribly tacky scent -- cloying and excessively saccharine; I hated it from the first spritz, but by God is it difficult to get rid of. There's no personality, just constant sweetness, like opening a packet of stale, powdered doughnuts.
Show all 104 Reviews of J'Adore by Christian Dior