A new signature by Givenchy. The scent is woody and fresh with green herbs, balms and spices. The bottle was created by sculptist, Pablo Reinoso.
Confusingly, the fragrance is advertised with the tagline: "The Gentleman is back"...
Givenchy pour Homme fragrance notes
Head

cool grapefruit, mandarin, violet

Heart

lush fruits, exotic spices, floral notes

Base
Where to buy Givenchy pour Homme by Givenchy
Eau de Toilette 100ml
$72.00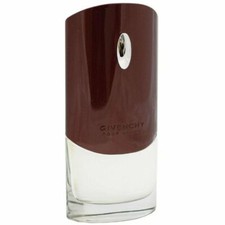 GIVENCHY pour HOMME by Givenchy Cologne 3.3 / 3.4 oz EDT For Men NEW tester
$37.44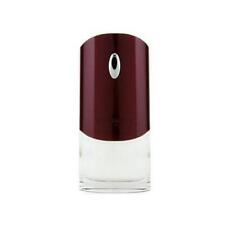 Givenchy Pour Homme by Givenchy 3.3 / 3.4 oz EDT Cologne for Men New Tester
$37.43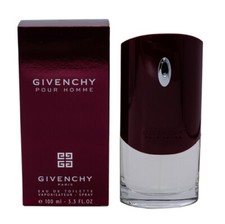 Givenchy Pour Homme by Givenchy 3.4 oz EDT Cologne for Men New In Box
$46.03
If you purchase through these links, we may receive a small commission, which helps support and maintain our site. Thank you!
Latest Reviews of Givenchy pour Homme

JoshMonkey
I don't know if it's discontinued yet so if you're interested, bottles are really cheap right now. I love the order of notes in this fragrance especially the combination of spice with violet. I have found that I love violet the most of any floral after I received a bottle of Burberry Touch. Going back to my bottle of Givenchy Red, I find the violet to be perfectly blended. Longevity is okay. Projection is mild. Sillage is good. I think this should be the fragrance that represents the brand and not the endless reiterations of Gentleman. I don't care for the Gentleman scents. There are too many flankers for Gentleman and it's frustrating trying to decide which one to buy. Maybe Givenchy won't discontinue this but that's wishful thinking. If you like violets and pepper and am tired of modern perfumery's never ending flankers, edt's, edp's, parfum, etc then try Givenchy Red. I haven't tried the Blue Label yet but will in the future. I don't care too much for aquatics so I bought the red. Hopefully they will both still be available for sell by that time. This and Pi are my favorite Givenchy fragrances.

Zgb
It's been almost 11 years since the first time I've tried this one, back in 2009. Always in and around my head, but never a part of my collection. It almost shocked me to see I didn't write a review for it all of these years.
I'm quite certain that, when Hugo Boss issued Boss In Motion Black flanker, the main idea for it was Givenchy Pour Homme. I always really appreciated Boss In Motion Black and found it to be rather unique. Givenchy Pour Homme is unique as well. It's fresh but also warm at the same time. Not many frags can achieve this feel. Whole year rounder, however not for the winter time.
Givenchy Pour Homme is also conservative and modern at the same time. Citrus notes make the fragrance airy or fluffy, fresh, casual and "kind", while the vetiver and cedar make it warm, firm and "serious".
Strange thing is, that after all this years it's still around, even if it never became a popular fragrance. Just like Gucci by Gucci Pour Homme to this date. I'm mentioning Gucci by Gucci because just like Givenchy PH it never became a top seller, while some of the more "newer" and "better accepted/popular" fragrances were discontinued, such as Very Irresistible for men and it's flankers and Play, or Play Intense as the most notable flanker of that line.
Overall description/conclusion: calm, kind, firm and conservative. A worthy member of the community. Deserves more mentioning and attention.
Originality: 7/10
Scent: 8/10
Longevity: 8/10
Projection: 6/10
______________________
math grade 72,5%
subjective grade 8/10

ADVERTISEMENT

Jon_Remy
Like Fahrenheit deodorant/antiperspirant, the Givenchy Pour Homme deodorant/antiperspirant smells BETTER than the actual fragrance itself. Although I stoked up on GpH when it first came out, I wear this strictly in the autumn/winter, and it remains locked in my fragrance locker for the rest of the year. It is a very nice fragrance on a cold winter day when you're eating at an exclusive upscale restaurant with other affluent Mercedes-driving patrons. Yes, I've received many compliments on Givenchy Pour Homme. Too bad the actual fragrance doesn't smell like the deodorant/antiperspirant, because that smells Heavenly (just like the Fahrenheit). There must be ingredients in the deodorant/antiperspirant that gives it that extra something that brings out the beautiful warm and sweet notes.

dotmpe
Wood, and a warm sweet citrus theme. That is what my unsophisticated nose gets form this, and it was perfect my for twenties.
This was my first buy at one of those perfume chains that are everywhere, over 15 years later I think it is still better as the current Givenchy offerings. I would love to try something else or older, but its not easy testing and eventually sourcing niche or 90s and older scents. So I bought an almost full bottle of Givenchy Homme red label again from someone, and I'm not disappointed. Maybe a bit too sweet now, but I seem to get more from this than my new Gentleman Intense '17. That was the trigger to look into niche and vintage EDT's.
Unoffensive. Not the fresh synthetic silver or blue colognes I can smell everywhere but which don't really long for. Maybe a bit too sweet now, but still a favorite that I have not found a readily available replacement or improvement for but I'm looking. I probably will try to make this one last, I think this may be too happy sweet and fruity for wearing every day at the office.

Kaizen1972
Between this and GpH Blue Label, Blue won out every time.
Fragrance note listings according to another weblog:
[Top] - coriander, mandarin orange, bergamot, violet
[Heart] - vetiver, lavender
[Base] - labdanum, cedar
(the "lush fruits" and "exotic spices" labels don't help)
Compared to Blue Label, GpH is fresher, sweeter, closer to the skin, more powdery and more floral. I never felt "complete" wearing it, like I wanted more from what was already there. It comes close to smelling like Bleu de Chanel EdP, but not as quirky and complex.
Givenchy pour Homme is unexciting, average, and pales IMO in comparison to the more masculine and compliment-garnering Blue Label.

freewheelingvagabond
This is yet another sub par designer release, and hard to believe it's from Givenchy unless one doesn't know it. It is very chemical-synthetic and alcoholic in the opening, and settles down after a couple of minutes. I can't find any citrus (was it the alcohol?), but detect violet and warm spices, a hint of cardamom; there are some fruity notes, nothing much in the form of florals, and some woody notes; the spices and the woods combine to provide a leathery-amber accord after about an hour, which is its best phase to me. Soon thereafter the volume decreases, and it fades into soft sheer woods with a touch of warmth and sweetness.
The implied style is that of a fresh oriental; however, I find it to be more fruity-woody with a definite leather aspect. The spices are toned down; in fact, Mugler's Cuir Impertinent, though released years later and twice as expensive, comes across as a greatly improved exploration of the same idea. In fact, I even find some vague similarities with Tuscan Leather.
Definitely one to be avoided.
2/5
Show all 68 Reviews of Givenchy pour Homme by Givenchy