Explorer fragrance notes
Head

bergamot, clary sage, pink pepper

Heart

Base

patchouli, ambrofix, akigalawood


Where to buy Explorer by Montblanc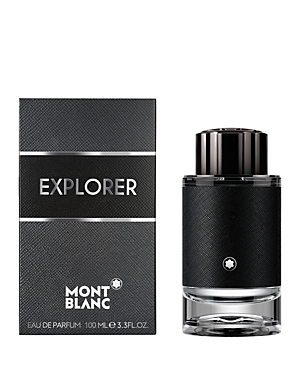 Eau de Parfum 98ml
$115.00
Eau de Parfum 200ml
$125.49*
*converted from GBP 99.45
Eau de Parfum 200ml
$125.49*
*converted from GBP 99.45
Eau de Parfum 100ml
$99.69*
*converted from GBP 79.00
If you purchase through these links, we may receive a small commission, which helps support and maintain our site. Thank you!
Latest Reviews of Explorer

FSOCI3TY
This designer fragrance instantly reminded me of Aventus, and Montblanc doesn't even try to hide it. There are hundreds of reviews on Fragrantica that explain the scent, so I won't go into detail. However, I do want to point out the double standard when a reputable designer house releases a fragrance that smells similar to an expensive one. Maybe it's different now that this scent has been out for a while, but when it first came out, not many people were calling it a "clone." Other words such as "alternative," "substitute," and "cheaper option" were being used more frequently.
I just find it funny how a designer brand is blatantly copying Aventus. I suppose it's not the first time, as Atelier Cologne did it with Musc Imperial.

ScentSensei
Montblanc Explorer does indeed tread a well beaten path originally cleared by Creed's Aventus. So the exploration is of areas just off the existing trail, so to speak.
Explorer starts with a tell-tale familiar pineapple-y top note, which strikes me as a good blend of sage and bergamot. It is not as bright nor smoky as Aventus and is slightly powdery and sweetened in comparison. Still it is a very pleasant beginning that I enjoy. From there it seems to just fade into an ambroxan base. Longevity is more like half of a workday and sillage is moderate at best as this does seem to cling closer to skin. I sprayed heavy to finish up a sample and it still didn't seem too overpowering. That does make Explorer a very safe choice for a young person's office fragrance. It does not matter whether you are wearing this to explore Spring/Summer or Fall/Winter it can be an all-season go-to. Especially in a climate controlled area. As part of a collection it would be more of a warm weather reach given other options and to be blunt Armaf's Club de Nuit Intense Man would be a better option for your collection if you were wanting the best exploration of the concept that isn't actual Aventus.
Because I genuinely feel that Explorer is a substantial notch below Aventus and CDNIM I am Neutral. I will mention that this is a Thumbs Up as a gift for a young person needing an upgrade or jumpstart in to the idea of personal fragrance as part of grooming and success.

ADVERTISEMENT

Descartes
If you like the pineapple note go for it: sweet, balsamic, powdery but lacks depth and complexity but it smells very good and sexy, I like it, is well crafted, nevertheless why Montblanc has to copy Creed's Adventus success by making a pineapple scent? The difference is abysmal: Adventus is more complex blending salty notes with musk and ambergris to the tropical caramelized pineapple, in Montblanc's Explorer the quality and complexity are not there, is just a blend of aroma chemicals . I get tired after a while, the pineapple goes on and on and on eternally. Monster projection and ideal for a hot summer day on the beach or a social event like a wedding. Unisex.

AspicMyopic
An enjoyable scent to wear, however it doesn't last long. About 3 hours after the dry down it becomes a very intimate scent. Montblanc Explorer opens with a nice fruity, sweet bergamot note and then settles to what I perceive as a masculine vanilla note. It projects reasonably well for the first couple of hours and longevity is moderate. This is a good signature fragrance and suits most casual occasions, such as going out to dinner, having drinks, or at work. I have received a few compliments and some positive attention while wearing it. It's obviously not a ground breaking fragrance but I'm happy with it and think for the price it is good value and worth having in my collection.

Shahbaz_2009
One of those generic&popular fagrances that makes a lot of complements from ladies like "Oh, you smell so good". It's similar to aventus. The scent makes you want to eat yourself and hug yourself. It opens with a burst of sharp, fresh, bright and citrusy note. The spicy notes described in the opening, feel like a mix of pepper and other soft spices. Than as it lingers on the skin, luminous citrus slowly give way to a woody, elegant, ambery and musky blend with a wisper of gentle flowers. Finally, the cacao pod and patchouli joins the blend adding a touch of sweetness. In fact the opening is a little bit juvenile and it's quickly transformed into a mature woody scent. This would be suitable for business or smart casual attire. Sillage and longevity are average.

Funwithfrags
I came into this testing with very low expectations. And although they were kind of met, with Explorer very much betraying the designed-by-accountants kind of vibe I thought would be there, there are some positives, if that's not stating things too strongly.
Although there is a strong ambroxan presence, it's not overpowering. There is a decent savoury-herbal opening. And although many of most alluring designated notes are laughably absent, the drydown is fairly coherent, making for a dark, taut masculine that's at least wearable.
Worse than Aventus, better than Sauvage, identical to a whole series of other designer scents tenuously connected to the outdoors - all check.
Show all 26 Reviews of Explorer by Montblanc