Dior Homme Intense is the third fragrances in the Homme series, following Dior Homme and Dior Homme Cologne. The fragrance was originally a limited edition, but is now part of the permanent line up.
The fragrance echoes the lavender, iris and vetiver found in the original fragrance, and increases the strength from Eau de Toilette to Eau de Parfum.
Dior describe the fragrance as:
The quintessence of prestige and sophistication in a generous and powerful Eau de Parfum. Intense Iris, enhanced by a sensual amber facet and precious wood base, exudes its powerful charm. A sensual interpretation with a fragrant trail that is an invitation.
Dior Homme Intense fragrance notes
Head

Heart

Base

virginia cedarwood, vetiver, vanilla


Where to buy Dior Homme Intense by Christian Dior
Eau de Parfum 148ml
$150.00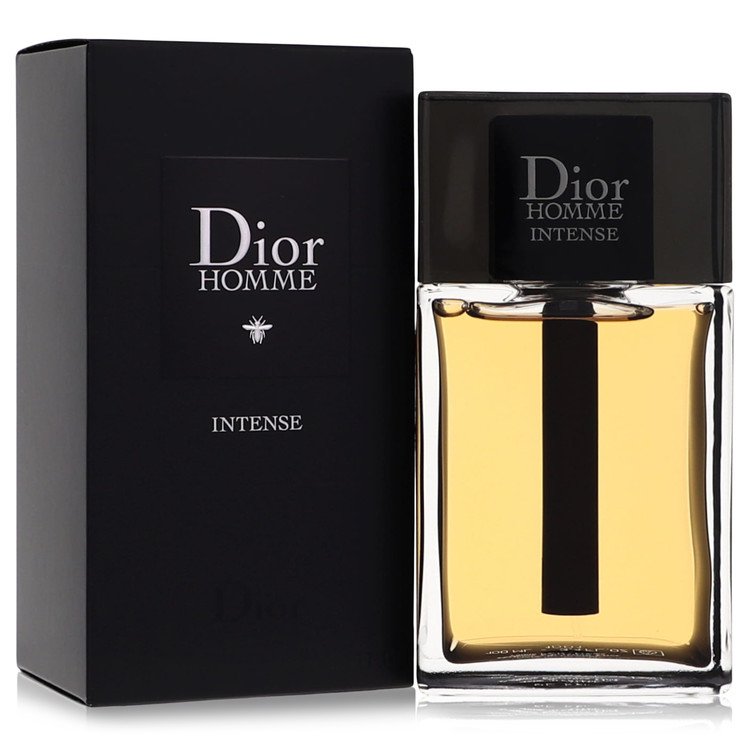 Eau de Parfum 100ml
$136.96
Eau de Parfum 150ml
$146.94*
*converted from GBP 116.45
Eau de Parfum 100ml
$137.54*
*converted from GBP 109.00
If you purchase through these links, we may receive a small commission, which helps support and maintain our site. Thank you!
Latest Reviews of Dior Homme Intense

N.CAL Fragrance Reviewer
This is for the original 2007 (silver collar) bottle:
I've had this in my collection well over ten years and my thoughts on it have not changed since I wore it for the first time. I consider this a floral oriental scent. The opening begins with a prominent iris note that is not too floral or feminine. The iris will gradually dissipate overtime allowing for the vanilla to emerge. By the time scent reaches the drydown you have a nice oriental base with some iris florals and woods supporting it. One of the best modern designer scents that I have smelled period. I have since picked up multiple bottles as this going to be a keeper for a lifetime. I could wear this pretty much for any occasion - casually, to work, or an evening out. It will work pretty much anytime of the year.

Vanilla child
My nose knows what is pleasant and this fragrance surpassed all expectations. On my skin I get iris, iris and more iris. For some reason it remains quite linear and that's what I love about it. DHI forms a 2-3 foot scent bubble that last for about 9-10 hours on my skin. This is simply the one of the BEST fragrances.

ADVERTISEMENT

Smellyicious
I wish I'd bought this first. I'd have never bothered with blind buying or seeking out hidden gems or cheapie gold.
Dior Homme Intense is as good as it gets. Perfectly conceived and blended. A smooth criminal.

tinfoilhatdude
Second time to let a bottle of this go, it just stays too sweet for me.
I love the materials and blending - this is a high-quality designer - but really straddling the niche-designer fence.
I just prefer my 2016 formula Dior Homme to any flanker yet. But the Intense version is a close second; just too sweet for my tastes.
But I can see this formula getting traction from a younger crowd, for nighttime use.
7.5/10, personal taste is factored in.

RedMint
Tried this for the very first time tonight, after trying some other 'staples' of the designer world (Bleu de Chanel, Aqua di Gio Profumo, Le Male, Sauvage) and this one stands out as the most unique but to my nose, not the most pleasant.
However, this is my first sniff of it, and although I was prepared for the iris and the association with lipstick/makeup, I didn't realize just how much of that said note would be here. It's ... a lot. As someone who fondly remembers days in theater classes and being on the stage with pancake makeup smothered all over my face and the pungent, powdery, waxy, almost bitter flour smell of that - Dior Homme Intense recaptures that very accord. Although a unique scent, it's not one I'd want to linger on for long, or have projecting off of me for all to smell. As others have said, this is the smell of the inside of an older woman's purse. Whoever designed this fragrance, my hat is off to them, they were thinking way outside the traditional box of masculinity.
The drydown is what's intriguing me the most, as this morphs from the straight-up smell of makeup to something richer and more pleasant as vanilla and something mysterious (something leathery or boozy) comes in. As iris and lavender are joined by those richer, creamier, and more mysterious notes, the whole thing becomes far more well-rounded and I can see where, over time, this could become the love interest of some wearers.
On first wearing, it's not for me. But given just how many people are adamant about the addition of this to any serious fragrance-lover's collection, I am willing to give it time to grow on me (or not). For now, I will simply say that this stands apart from all the others, and for that, I am intrigued and willing to continue the relationship to see where it goes.

tessera
I get a woody powdery orris root with herbal grass and a dry eucalyptus note underneath. I really enjoy this powdery iris. It's fairly simple, nothing to handspring about, but it's comforting and smooth. drying down to SUCH a lovely cozy vanilla scent. It's more feminine than unisex to my nose, but would wear nicely on anyone who goes for the softer powdery side of orris and likes their comfort vanilla.
Show all 152 Reviews of Dior Homme Intense by Christian Dior