Delina fragrance notes
Head

lychee, rhubarb, bergamot, nutmeg

Heart

turkish rose, lily of the valley, peony

Base

vanilla, incense, white musk, cashmeran, woods


Where to buy Delina by Parfums de Marly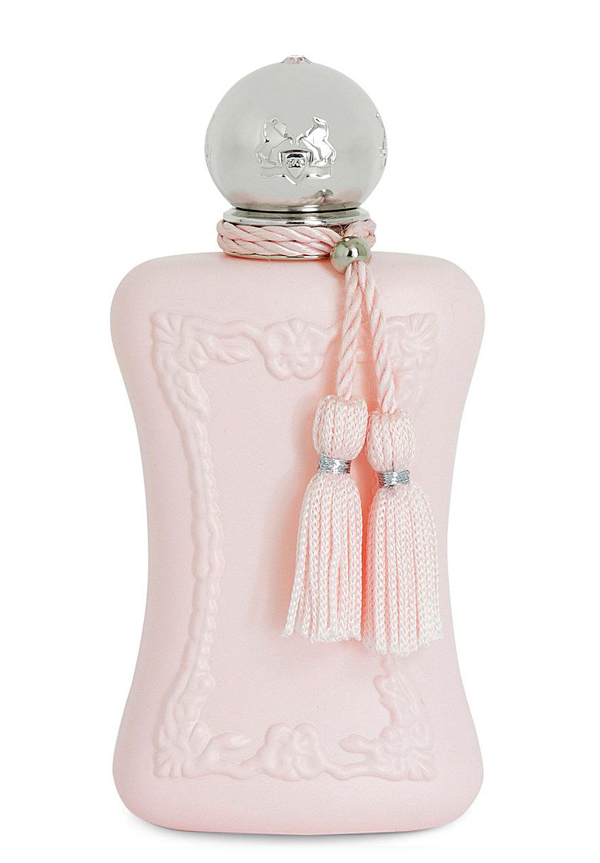 Eau de Parfum 75ml
$355.00
Parfum 10ml
$138.80*
*converted from GBP 110.00
Eau de Parfum 75ml
$290.23*
*converted from GBP 230.00
If you purchase through these links, we may receive a small commission, which helps support and maintain our site. Thank you!
Latest Reviews of Delina

BunnyMusc
She's all glitter and jelly sandals, this one. And unabashedly so. Tart, fruity floral. Very young, very loud, syrupy sweet.
UPDATE: After a few hours of wearing this scent, you feel like a kid at a slumber party whose powered through several candy bags and is now nauseated and exhausted and needing mum to come pick you up. Too sweet, too sour. Headache inducing.

tonileefiore
After reading great reviews and from time-to-time finding myself on a journey for a new "signature" or daily fragrance, I decided to give Delina EDP and Selina Exclusif a try. I will review Delina Exclusif in a little bit.
I am still on the fence about this one and overall, I like it but I do not love it. The intense initial rhubarb, lychee and bergamot blast is something folks seem to love or hate. For me, the intense vegetal & fruity opening, which seems to last forever and a day, is one aspect I do NOT love.
The intense tartness and sharpness to the perfume's opening almost give me a headache. Additionally, the intensity and "uniqueness" of the opening note(s) remind be a lot of the numerous fruity, creamy, cotton-candy fragrances presently on the market. Seems there are numerous fragrances like Delina EDP that deliver this overly-intense "unique" initial blast in a quest to give the fragrance a young & "edgy" vibe. It feels like the opening notes of Delina EDP are just trying a bit too hard to be relevant and "hip."
I struggle to smell rose, incense, or musk but floral mid-notes do emerge, along with milky, creamy somewhat vanilla notes. Finally after an hour or so, Delina EDP settles as nothing more than a floral, somewhat milky vanilla fragrance with CONTINUAL wafts of rhubarb, lychee, bergamot...vegetal & fruity notes.
I would like some incense, wood, musk and other like notes to rise and somehow ground/balance this fragrance. But on my skin, these notes never appear. Silage is moderate, longevity is long. This is a nice enough fragrance I suppose but definitely not for me and surely not full-bottle worthy at such a high price-point.
All stars and thumbs up but not a fragrance I would buy and wear on a regular basis.

ADVERTISEMENT

PerfumePorMoi
What immediately comes to mind when wearing this is that scene in Sophia Coppola's Marie Antoinette, where the gals are having themselves a good old fashioned 18th-century self-care day, set to "I Want Candy." If that scene had a smell, it would be Delina.
It's intensely rosy but also bright and succulent thanks to rhubarb and lychee, which leads one down a deceptively giggly, girly path before hitting the nose with its cheeky dry down, a bracing vetiver with just a hint of incense. (And kudos to whoever designed the bottle. It's on point and high quality, with a heavy cap that snaps in place with a decisive click and stays there.)

Lyric82
Sometimes I feel like I am on a different planet than the average basenotes users/reviewers. The fact that this has so many neutral and negative reviews on here is kind of blowing my mind. I LOVE this, and both of the other Delina Flankers as well. It has a tartness to it (I guess that's the rhubarb and lychee), that just is so unique to me. I don't have many fragrances that have a very juicy tartness to them, even those with citrus notes don't achieve this for me. Then, on top of that very pleasant and unique aspect, it has an explosion of sweet roses that I just can't get enough of. This is a very powerful perfume, very easy to overspray. It has a huge projection, and very VERY long lasting. The sillage is another point that I can't help but notice it's unique beauty… the smell coming off of my body and leaving that beautiful trail… that's a different scent than the one I sniff on my wrists. So that little present you are leaving behind to everyone, it's so pretty! Sometimes I'll get a whiff of that and think oh my god what is that beautiful scent? Oh yeah, it's me! But anyway, don't write this one off without trying it on your skin. And don't spray too much. The Exclusif version doesn't have the tart, juicy Quality… but it has a creamy quality instead.

xstitchalanna
I love how this opens with the nutmeg spicy smell, but it wears off rather quickly and turns to a more floral smell, which is still nice. But that quickly turns too sweet and I notice flowers and what smells to my nose of cotton candy. I can see why it's popular, I'm in the dry down phase and just have lots of rose which smells wonderful. It's just a little too sweet floral for me. I gave my sample to my mom. I think it is a good daytime fragrance for spring and summer.

FSOCI3TY
Love the scent! At first, I thought I preferred Delina Exclusif, but now I think this one's drydown can compete with it. Delina smells like a higher-pitched version of Delina Exclusif. I think this one is suitable for casual events, while Delina Exclusif is more suited for evening or date scenarios. As I haven't explored many feminine fragrances, I can't compare this to others.
However, the price is too high. I wouldn't pay more than $180CAD for it. The cost is always the factor that lowers the rating for the women's line.
Show all 13 Reviews of Delina by Parfums de Marly