Black Walnut by Banana Republic (current formulation)​
---


Black Walnut by Banana Republic (original vintage)

​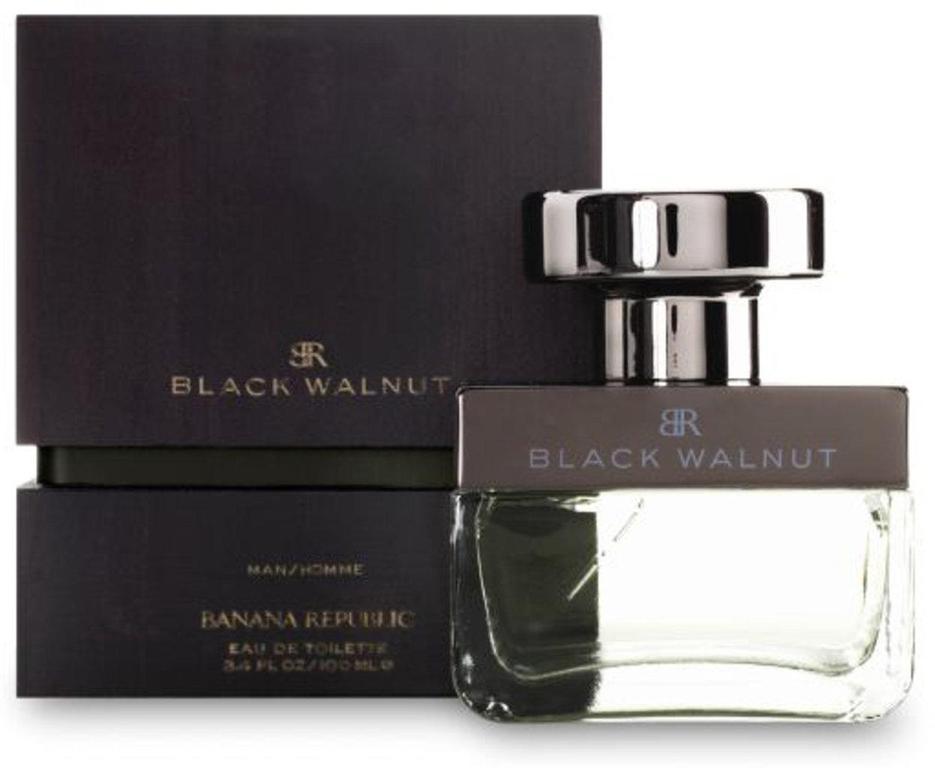 ​
---
If
you're looking for a great fragrance at bargain-basement prices, let me offer, for your consideration, the latest versions of the classic Banana Republic men's fragrances,
Black Walnut
,
Slate
, and
Cordovan
.
None of them is exactly like the original, but every one of them is still surprisingly close, and - even more importantly - surprisingly good.
Most of all - surprisingly cheap.
The original
Black Walnut
was a bit of a lucky buy for me. At first, after I got it home, I was disappointed when I realized that it was so similar to a fragrance already in my (at the time) meager collection - the "red bottle"
Givenchy Pour Homme
.
The
Givenchy
is a great fragrance, also a bit of a clean, cool, alcoholic woody, like
Black Walnut
. There is more of a tobacco vibe to
Black Walnut
, and that difference is what I used to console myself about near-duping a fragrance already in my collection. Nevertheless, in time, I grew to love them both - for their similarities, and for their differences.
Years later, I stopped wearing either fragrance, as the world of many perfumes opened up to me, thanks to Basenotes. But I still wear both of them, occasionally.
Over time, as rumors of the discontinuation of
Black Walnut
perennially appeared, I debated getting a backup. I stalled, and eventually,
Black Walnut
showed up again, but this time with some changes to the bottle.
That intrigued me. And an even bigger question. Was the juice still good?
Eventually, I had to find out. I don't think I paid more than $25 for the "new"
Black Walnut
, but I got exactly what I expected. NO fancy metal on the bottle, and NO wooden box.
The juice was wonderful - a bit sweeter and more coumarinic than the original. A bit more floral. A bit more restrained on the tobacco. But still, a VERY enjoyable fragrance, that smells like
Black Walnut
and nothing else.
I also bought the new
Slate
- and it's a very similar story there. More floral, a bit stronger, and less subtle - which is almost out of character for
Slate
- but still excellent.
Finally, the new
Cordovan
. Same thing. A bit less oily, less leathery, and less spicy - but still awesome, and unmistakably
Cordovan
.
All of these new versions clock in at about $20-25, and sometimes you can find them even cheaper.
Yes, the vintage is different. For many finicky noses, it's worth pursuing those wooden boxes, which are sometimes quite pricey. I've seen them in the low hundreds. But if you refuse to throw over $30 at a mall frag, then HELL YEAH - go for that new stuff, which is fresh, and almost the same.
You'll be glad you did.
Finally, let me note that there is now a "flanker" of
Black Walnut
which has (almost) nothing to do with it. That fragrance is
Black Walnut Legend
.
The
Legend
flanker is not much of a flanker, and a lot more of an
Aventus
clone. Unless you like
Aventus
(which I do) or certain other "pencil-woody" fragrances, possibly of a celebrity nature (COUGH), you'll be glad you stayed away from
Black Walnut Legend
, IMO. It has very little in common with the original
Black Walnut
, but still just enough to make me defend the fragrance as worthy to remain in my collection.
My "epic" poetry cannot do it justice - but I had fun trying!
Cheers! 🍺
-Red
The Legend of Black Walnut
'Twas a fragrance in a mall
The smell of it, I do recall
Somewhat faint, and well-disguised
Yet it had me mesmerized
The name, "Black Walnut", never fit
For 'twasn't 'tall the smell of it
Nor the notes displayed in store
Cognac, cedar, even more
Fine tobacco, hinted strong
Barely there, if searched for long
No, instead, some plywood clear
Homeopathetic near
Yet I fell in love with same
Fragrance sounding oh so lame
For some brilliant spark beheld
In said synthy solvent weld
Minor fake tobacco note
Wood that wouldn't ever float
Some persistent vapor of
Booze too pure for vodka love
Eau, my God, and yet it sings
To this nose that trouble brings
Always looking for one more
Fragrant folly still in store
Later, on some fragrant board
Where said fragrance was ignored
Met a guy named Mike Perez
Cursed to have my lost twin nez
"Solid mall frag" said good Mike
Thus to praise my errant like
Armed with said authority
Sing its praises, oh, did we
Hanging onto bottle long
Early batch one might call "strong"
Fourteen year-old vintage sat
Purring like transparent cat
Enter older boy named Red
Not by wile or virus dead
Acolyte of lesser gods
Skating past angelic mods
Sneaking sniffs, his wasted life
'Hind the back of his good wife
Into Marshall's, what to see?
Eau Black Walnut, is that thee?
Wait - egads - it's something new!
Flanker "Legend", number two!
Quickly to Directory
Will this one appeal to me?
No reviews! What is this thing
That the clearance truck did bring?
Notes aplenty, Judith, Furry
Took away my greatest worry
Bergamot and pepper black
Manliness this would not lack
Kumquat listed, say no more
Both of them, I do adore!
Heart notes of geranium
Terre d'Hermès' uranium
Incense, yes, and cyclamen
Makes me sneeze, but love it then!
Leather, musk, patchouli base
Pulchritude in proper place
What was in this not to love
Save some hellish mixture of?
Then to good friend video
Trusted voices that we know
Brooklyn Fragrance Happy Nose
Redolessence, fragrant bros
Two thumbs up, for sneaker clone
Claimant to Aventus' throne!
BR stealing Zara's schtick
Flanker cranker pretty pick
Compliment from Reddie's spouse
Red's excuse to bring in house
Then confirmed by second vid
Russell Clone, The Fragrant Kid
Back to Marshall's, make the buy
Is there any question why?
Get it home and sniff it real
Legend born with broken seal.
**********
Mount Eaulympus, godly home
Zeus as Vintage Tabarôme
Brought before him, baby frag
Fathers three, accused by nag
"They all did it, yes they did!"
Said she, pointing at the kid
"This can't be" said good old Zeus
"Two of them must be set loose!"
"Wait!" said god of aqua boys
Nepty, Posey, some such noise
"Bring them forth from fragrant brig
Then bring man with nose of pig!"
Thus I entered this affair
With my one and only flair
Sniffing out the rascals that
Grab their pants and leave their hat
First I smelled Aventus Creed
Surely 'twas behind this deed
Everything the vid boys said
Kidly fragly ringer dead
Rather genius, though this plot
Of this child that Creed begot
Kumquat in some woody way
Paired with musks that last all day
Leather standing in for birch
Same-same thing from man-pig's perch
Smoke all gone just like they said
Still Aventus' style to Red
But Red sniffed at one more gent
Demigod, or some such bent
By the name of Beckham Homme
Oft accused of eyes on Rome
Said to be a friend of Terre
Due to pencilwoody flair
Still a suspect long by Red
Of Aventus games in bed
Now, in infant's peppered hair
Red saw Beckham standing there
"Szechuan, Peshuan, type be damned
Pepper Papa, we've been scammed!"
Pepper-woody truth thus told
Beckham's wood confirmed the scold
Doubly fathered mystery
"Wait!" yelled Red "I'll make it three!"
Shaking finger at the third
Who let loose a peaceful bird
Red proclaimed defiantly
"Old Mall Rat, I accuse thee!"
Yes, the old cheapskate himself
BR Walnut, on the shelf
Playing like it weren't his kid
Though we all know what he did
Obvious by slacker style
'Nana 'Public clean-up aisle
Looking for an easy check
Weakly woody mall frag dreck
"You're not getting out of this,
Wood-box papa, weak as piss
Own up to your precious kin
That the true Zeus let you in."
"What the heck" said Harry's work
Standing 'fore accusing jerk
"Hidden 'hind these better styles
Find my Mall King fashion wiles!"
"Notice how the kid's all calm?
Didn't get that from his mom.
Nor the booze you smell behind
Ventie's fruity musky kind."
"Best of all, my easy wood
Newer, nower, just as good.
Add my woody pepper spice
Not tobacco, just as nice."
"Now you see me, now you don't
Catch me if you try, you won't
But I'll stop with daddy coy
So my name stays on the boy."
"Almost cucked you all with that
Saddling Ventie with me brat
But my boy's too good for you
He'll be mine - I'll raise him true!"
Thus the three began to fight
Red ran out into the night.
Zeus dropped down a thunderbolt
Scaring every stoogey dolt.
"Hear me out, you fathers three
Raise this boy as best you see
Don't come back to this here court
'Til you bring Black Walnut Sport!"
May 9, 2021
#242759